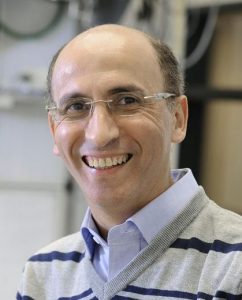 Prof. Younès Messaddeq
Professor, Centre for Optics, Photonics, and Laser (COPL), Université Laval (Canada)
Younès Messaddeq began his academic career in Brazil in 1994 as a professor at the Institute of Chemistry of Araraquara of the Sao Paulo State University (UNESP). In 2010, he moved to Canada and joined the Department of Physics, Physical Engineering, and Optics at Université Laval in Quebec City to hold the Canada Excellence Research Chair in Photonic Innovations. Prior to his arrival, he was also visiting researcher in different institutions, including the University of Münster (Germany), the University of Bourgogne (France), and the National Institute for Research in Inorganic Materials (NIRIM, Japan). Professor Messaddeq holds a Ph.D. in chemistry from the University of Rennes 1, France.
A world-renowned leader in the study and development of materials for optics and photonics, Professor Messaddeq is currently head of the research axis of Photonic Materials at the Centre for Optics, Photonics, and Laser (COPL) of Université Laval (Canada). There, he leads a research team of 40 members including graduate students and highly qualified personnel who are working on pushing the boundaries of knowledge in ultra-low loss mid-infrared glasses, microstructured and multi-functional optical fibers, and nanostructured materials for applications in health, environment, communications, and defense & security. Younès Messaddeq has authored over 470 peer-reviewed journal articles and has contributed to 10 scientific books and book chapters detailing his groundbreaking research on new glass, hybrid and functional materials. He has also participated as an inventor in 15 granted patents and since 2012, he has filed 11 patents that are under review.
A firm proponent of international collaboration, Younès Messaddeq has spearheaded various research and training initiatives that have resulted in the establishment of synergistic partnerships. One such partnership is the International Joint Unit with the UNESP in Brazil, of which he is the Director. Another is the International Associated Laboratory on light-matter interactions that brings together researchers at the CNRS and Université de Bordeaux in France and at Université Laval and INRS in Canada. He is also the Director of this initiative.
Apart from his academic pursuits, Younès Messaddeq has participated in several industrial research and development initiatives with prestigious companies in France, Brazil, Sweden, the United States, and Canada. He played a key role in securing the largest grant ever awarded to Université Laval for the Sentinel North program.
In 2018, he and 5 other colleagues were awarded the prestigious Brockhouse Prize for Interdisciplinary Research in Science and Engineering by the Government of Canada. This recognition is given to a team of outstanding researchers from different disciplines who have combined their expertise to produce achievements of outstanding international significance. In 2020, he was honored with the Varshneya Glass Technology Award from the American Ceramic Society's Optical Materials and Glass Division.
Research Professionals
Ali Riaz

Jean-Luc Delarosbil

Joy Sankar Roy

Julie Fréchette

Sandra-Helena Messaddeq

Victor Anthony Garcia Rivera
Postdoctoral Fellows
Sanggon Kim

Théo Guérineau

Víctor Fuertes de la Llave
Doctorate Students
Alizée Deslandes

Anees Mehaboob Cheriyathu Valappil

Antisar Hlil

Gabriel Toshiaki Tayama

Gaston Lozano Calderon

Haleh Nourizadeh Kazerouni

Hasnaa Benchorfi

Huseyin Can Çamiçi

Iago Carvalho Pinto

Ishfaq Showket Mir

Isma Mimouni

Ismail Ben‐Amar

Mehran Ahadi

Nathaly Colmenares

Orisson Ponce Gomes

Samar Aouji

Simon Kaser

Thomas Meyneng

Wagner Correr
Master Students
Anna Gagné‐Landmann

Bruno Arcand

Karim Bouzid